I was recently given the opportunity to check out a relatively new product: Babiators. Cute, right? The whole aviators/ baby thing? Well, I thought so. I have to admit when I first heard about them I thought they were probably just like all the other kids sunglasses I have bought for the boys that they wore for a few hours and then snapped the arms off of.
I was wrong. Yes, I admitted it. In fact, I was so wrong and so impressed, I made my very first vlog about them:
These little guys are impressive, no? I have actually been way rougher on these little sunglasses than probably is considered normal wear and tear and they have stood up to and bounced right back from every test I have put them through! I did actually managed to stop myself from running them over with the van but I think they would survive just fine. Just in case though, Babiators come with a one-year Wear and Tear Guarantee!
The best part is that the boys love them too. Who can resist this face?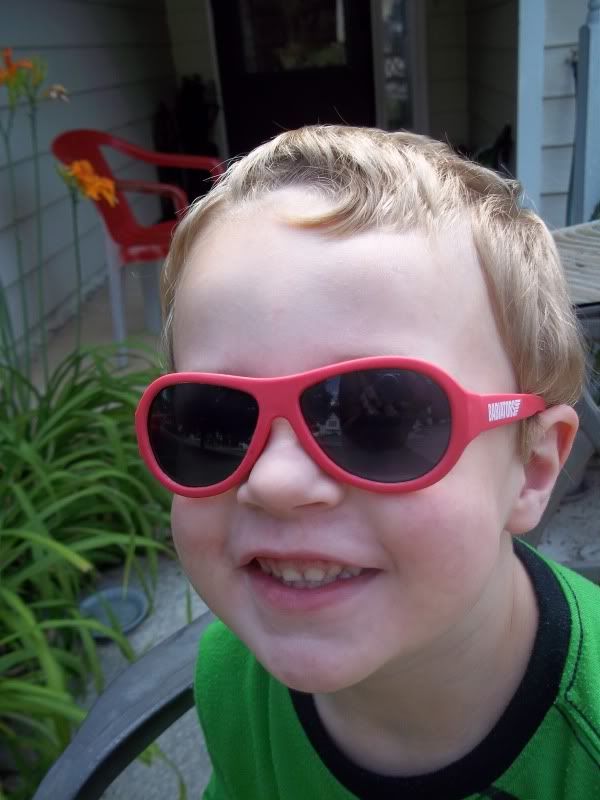 Just in case you were wondering, they are actually great beyond their flexability too. Babiators' lenses offer 100% protection from UVA and UVB rays! Very important for little eyes. (Especially for blue eyed people like us!) Plus, Babiators are made without BPA, without phthalates, and without heavy metals. So you know you are offering the epitome of safety and comfort for your little ones.
Ready to buy your little ones their very own pair of Babiators? They are available online at the Babiators website and also in select retailers across the United States!
Or, you could win a pair here! Here is how to enter:
1. You must follow Render Me Mama via GFC and leave a comment saying you do. Do this before any other entries or they won't count! (Mandatory) *1 entry
2. "Like" Babiators on Facebook. *1 entry
3. "Like" Render Me Mama on Facebook . Leave a comment saying you did so with your First name. *1 entry
4. Follow Render Me Mama on Twitter and leave a comment with your Twitter handle. *1 entry per tweet
5. Follow Babiators on Twitter and leave a comment with your Twitter handle. *1 entry
6. Tweet about this giveaway using this: "I just checked out @Babiators on @RenderMeMama and entered for a chance to win my own pair! Check it out! http://www.rendermemama.com/
". Leave a comment with a link to your tweet. You can do this once a day. *1 entry per tweet
7. Subscribe to my feed either by RSS or Email. Don't forget to click the confirmation link it sends you! *2 entries each. (Leave two separate comments!)
Be sure that your email address is displayed in your profile you that you leave it in the comment or I won't be able to reach you if you won! I will draw the winning number via Random.org on Friday the 24th at 6pm and email the winner. Good luck!
*I was sent a pair of Babiators for the boys to try out for this review. All opinions are my own.