Tonight, I got brave. I have always cut D's hair. Since his first haircut a year ago (not kidding, kid was bald till two). So, it only makes sense I would cut K's too right? Except. Well, except K has this temper thing. Hence the hulk baby name. So, I have dreaded cutting his hair since the day he came out with a ton of thick, black hair.
About 15ish minutes old. And hairy.
Of course his hair has lightened up considerably but his hair has only gotten longer. On the front and back that is. Every where else it was all still about the same length it was in that picture. Lately though, his hair had gotten a bit out of control. Fuzzy and wild and sticky outy all over. Which, of course, matched his personality but it wasn't quite as handsome as I wanted it to be for Christmas and since the festivities surrounding Christmas have already started, I needed to get the lead out.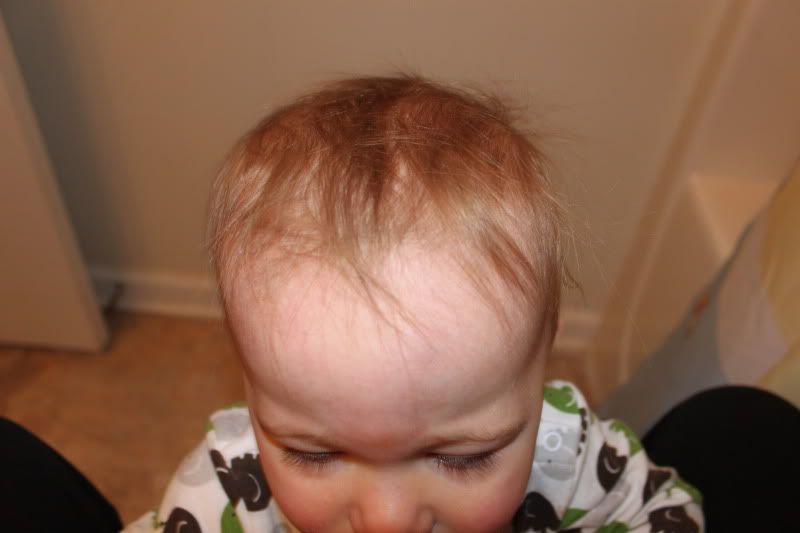 Before.
I snatched him up from his bed as soon as he woke up so he would be extra sleepy and got right to it. He sat there and stared of into space the whole time. I had psyched myself up to have a finger bitten off and he just sat there like a good boy and let me cut his hair.
And now? Now he looks like a big boy. Like a right toddler. It makes me all misty to even think about. My baby, my wittle monster, is getting bigger by the day. Last year he was such a little lump still. This year he is a talking, walking, running little eat beast. Perfection personified. I'm glad he seemed to enjoy, or at least tolerate his first haircut. Now to get his baby hair put into his baby book. *Sniff*