Sound a little dramatic? Maybe. How? They sent me some coupons to try their Oikos Greek Yogurt and YoBaby yogurt for the monster. Now, if you have been around long, you know I am trying to
lose a little weight
and be
healthier in my food choices
. Which, I am happy to say has been going.. okay. Not great. I will not hit my goal but I am happy enough with the progress so it all works out.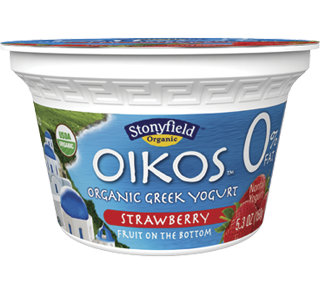 Anyway, one of the things that has been suggested to me over and over has been Greek yogurt. It is high in protein, low in sugar and low carb among other fabulous things. A perfect dieting breakfast. Thing is though, I have tried so many different varieties and only found that it has been too sour for me. Most Greek yogurts leave that weird, gritty, sour taste in your mouth, right? I thought they were all that way until I tried the Oikos. It really was tasty. The fruity stuff on the bottom was just the right amount to balance out the tart in the yogurt and it was was creamier than anything I had tried so far. So now, I'm hooked.
What else is cool about the Oikos brand? Its organic! Winning! Its also the only Greek yogurt available nationally which means all of you can try it!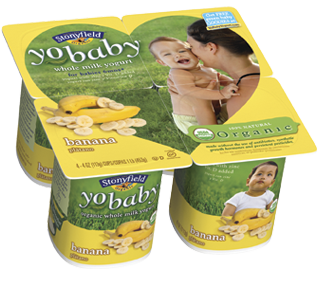 Then there is the YoBaby yogurt. Which, if you have a baby or toddler that has had yogurt, you are probably familiar with. If not, you should be. Organic (win), and made with whole milk (double win) for babies growing brain, its perfect for babies and kids. Now, I was around before they did the overhaul on the YoBaby line. It used to be thinner consistency and sold in 6 packs. Honestly though, I really do prefer the thicker yogurt for babies. It makes it way less messy and I feel like I can let K feed it to himself without making a huge mess. I do wish they would bring back the 6 packs though instead of four. Both of my boys have always preferred the YoBaby yogurts. Even now, D would rather have the YoBaby than the "kids" yogurt they have.
Of course they also have YoToddler available too with slightly more "sophisticated" flavors for older kids. Another favorite around here, too, is the 3 in 1 yogurt meals they have available. Which is a mix of fruit, vegetable and yogurt. Stonyfield also has other varieties of their yogurts including soy and drinkable yogurt smoothies.
So, there you have it! Stoneyfield brand yogurts are perfect for any family. A little something for mama on a diet and a perfect snack for the kids.

Do you want to win a pack of coupons from Stonyfield Farms to try these out for yourself? I thought so.
Here is how to enter:
1. You must follow Render Me Mama via GFC and leave a comment saying you do. (Mandatory) *1 entry
2. Like Render Me Mama on
Facebook
. Leave a comment saying you did so with your First name. *1 entry
3. Like Stonyfield Farm on
Facebook
. *1 entry each.
4. Follow me on
Twitter
and tweet about the giveaway. Leave a comment with a link to your tweet. You can do this once a day. *1 entry per tweet
5. Subscribe to my feed either by RSS or Email. Don't forget to click the confirmation link it sends you! *2 entries each. (Leave two separate comments!)
Be sure that your email address is displayed in your profile you that you leave it in the comment or I won't be able to reach you if you won! I will draw the winning number via Random.org On Tuesday the 7th at 6 pm and email the winner. Good luck!
* THIS GIVEAWAY IS NOW CLOSED!! OURSAFEHAVEN, CHECK YOUR EMAIL!*
*I was sent vouchers to sample both the Oikos and YoBaby line from StonyField for this review. All opinions are definitely mine and brutally honest.