Sunday was it! We went to visit
Thomas the Train
in Chattanooga! D has been so crazy excited about this event since we told him about it a few weeks back. He has asked when we were going at least twice a day for the last several weeks and when we put him to be one Saturday night, I seriously doubted he would even sleep. He idd though and we got up early Sunday when the boy's Nana got here and hit the road.
Chattanooga, TN is about 80 miles North of me but its a straight shot up the interstate so no biggie. It was actually nice that we had an excuse to head up there. Me whole family did some growing up there at one point or another in our lives and its always oddly comforting. Oh, how I wish I could go spend a few days. This time though, we were headed to the
Tennessee Valley Railroad Museum
which is quite impressive, if you are localish and have never made the trip.
When we pulled into the parking lot and got all parked and started piling up, a golf cart "taxi" met us at the hatch and helped us load the boys and all the things that go along with a day anywhere with two young children onto the cart and they chauffeured us to the entry gate. The boys jumped off that gold cart as soon as it stopped and took off towards the huge trains screaming "A train! Mama! Nana!
LOOK
!". It was good to see their excitement was still in full force and we had not even gotten to Thomas yet.
At the gate, we were greeted and given "treasure maps". We were instructed that if we got stamped at all four of the locations marked on the map, we would get a special prize at the gift shop on our way out. My mom made that her mission. Probably mostly because I am too absent minded to remember things like that but at least she knows me well enough to know that I guess. Always looking out for my boys, that one.
Anyway, as we walked in, there were several really cool old locomotives that the boys felt the need to rub themselves all over but just past those, there were a series of tents with all kinds of activities. The first stop for us was the tattoo booth. D got Thomas and K got James (For some reason, they have always split it up like that. Works for me though, easier to tell the toys apart.). They had a ton of train tables set up for the kids to play with and of course a ton more Thomas toys to run around the tracks! The boys were torn when it came time to move on to the next area. They really wanted to stay and play with the trains but also wanted to see what was next!
When we got to the end of the row of tents we all stopped dead in our tracks. There was Thomas. In real life. Sitting there on the tracks with smoke billowing out his smoke stack, grinning at us. It took a few seconds for the boys to react but when it sank in and they were able to speak again, they both yelled "Thomas!!" almost in unison. D really wanted to run up and touch Thomas like he had with the other trains but we were able to explain to him that Thomas was working hard and he was very hot. My mom and the boys did get their picture taken in front of him though and that seemed to be good enough. For now. T minus one hour until our ride time.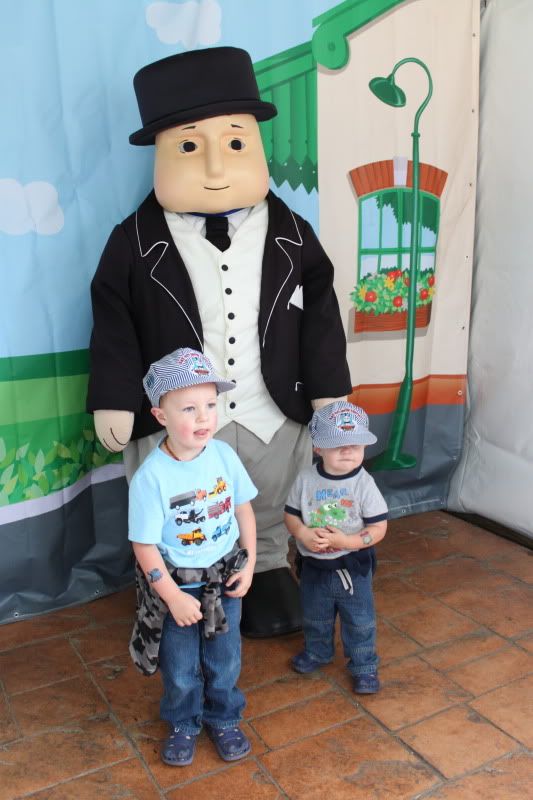 The next place we headed was to meet
Sir Topham Hatt
in his tent. The boys were a little fuzzy on who he was because they have not seen the shows that much but were still excited to meet the Chairman of the Railway all the way from Sodor. Well, at least D was. K was a little intimidated. Skeptical baby is skeptical after all.
D and I spent some time in the petting zoo while my mom and K spent time waiting in line for the bounce house they had set up. K would have gotten to pet the animals too if he had not tried to scale me like a ladder when a goat so much as looked at him. Like I said, skeptical baby. D had fun getting to pet all the animals though. He is always so gentle with animals and it kind of always surprises me. He has a lovers heart despite his crazyness.
When we met K and Nana over at the bounce house, it was on like Kong. The boys had a blast working out some of that nervous, excited energy they had pent up. The lady in charge of it was impressed at how well K kept up with the much older kids he was in there with. He may be skeptical but he knows how to have a good time.
When the boys got out of the bounce house, it was finally time. Time to go get in line to get on Thomas ourselves and take the ride they (Well, D) had been dreaming about for weeks. The line wasn't too bad by the time we got down there and they had us split up in to three different lines for three different cars so the loading was super easy and quick. Once we got on and chose our seats, we waited. We took a few pictures. We wrestled with the monster to keep him in his seat and talked to D about trains and the jobs they do.
The ride was about 25 minutes, which was just right. Long enough to thoroughly enjoy but short enough they didn't get bored. D watched out the window almost the entire time. Watching the trees and sights go by. K kind of freaked out at first. He made his most hilarious stone face yet and sank into the seat to soak it all in. He got used to it though and spent the rest of the trip looking out the window.
After we got off the train and told him goodbye and thank you for letting us ride, we hit the movie/ storytelling part of the event. The boys say quietly watching the movie but we didn't make it through the story. It was way past nap time and they were exhausted. So we hit up the gift shop for some goodies and our free prize (not going to tell you what it was though, you'll have to go do the treasure hunt yourself!) and headed back to the car in our little "taxi".
This event was way above and beyond what I thought it would be. I thought it would be just a train ride and maybe some coloring sheets and overpriced souvenirs. I am pleased to tell you though I was wrong. Way wrong. The tents and extra events they had were all free (expect the ride tickets). There were tons of activities we didn't even really get to. A live magic show and putt-putt included. The souvenirs were all reasonably priced even! When was the last time that happened at a kids event?
My advice is that if you have a chance to go to that
Day Out with Thomas
event that is
coming close to you
? Go. You won't regret it. Even with gas prices at 4 bucks a gallon, it was well worth the 80 mile trip to give the boys the experience that they had. It won't be one the forget.
*I was sent tickets to ride free of charge. The opinions are mine though and I really do recommend you check it out.