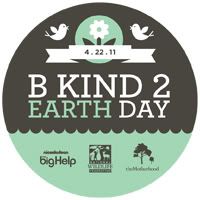 HAPPY EARTH DAY!
Hey all! I hope you are all having a wonderful Earth Day so far!The boys and I are out on adventure today doing some fun Earth Day activities. More on that another day.
Instead of the typical preachy "you should be greener or you don't care about our future" post, I am going to open up the floor to you! Leave me a comment with what YOU are doing today in honor of Earth Day. My favorite three answers will win a little prize, so make it fun! (and be sure your email is in your profile!)
*Don't forget to check out B kind 2 Earth Day on Facebook to keep track of some of the fun things others are doing in your state.