This past week, I got a call from "the girls". We were to convene for dinner and chat session the next night. I love it when that happens. See, we are the kind of group of girls that can sit and talk for hours on end about every thing and anything. Add wine, it gets better.
This time, we had a lot to talk about. The men in our life, the men out of our life, kids, old times and times yet to come. Oh, and of course the spontaneous dance party. All the goodies. Lots of laughs, a few tears.
The heavy bit, one of us is leaving. For the betterment of their lives, yeah, but still. I don't deal well with people moving away. Maybe because I was the one that always moved as a kid or maybe I just hate to lose someone I am close to. Either way, I am super proud of her for making the right decision for herself and sticking to it. We will see her again. Even if we have to hijack a commuter bus to take us out there.
So, since the big announcement came out (even though we all already knew it was going to happen),
Meg
decided to give us all our Christmas presents early.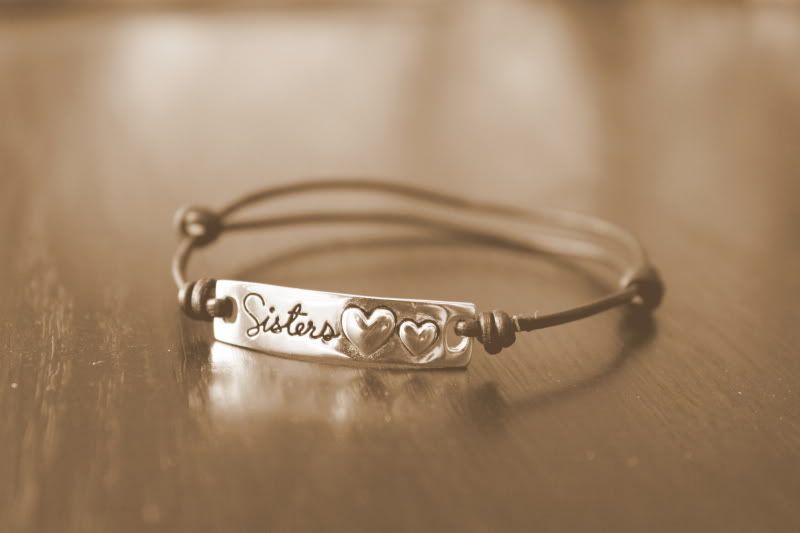 Perfect. I can't tell you how happy I was that this was the inaugural gift of the season. I love this. Of course we are "sisters from another mister" but sisters all the same. The kind of girls that you know you can count on. We all have our hitches, our skeletons, but no matter what craziness comes through, they will be right there. The kind of friends that not even
distance
can disturb.
Quite the way to start off the season!