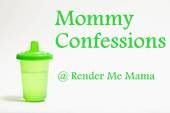 Ok, so we all have them. I have decided its time to stop keeping them to myself in hopes that other mommies will realize that none of us are perfect. Here are my dirty little secrets for the week in hopes it will encourage me to be better. What are yours?
~ Monday afternoon, my mother came over to play with the boys and she kept telling me that D felt hot. I just kept telling her that he always feels hot, he is a heater, etc. Plus, every time I felt of him he didn't seem to feel hot to me at all. Well, finally on Tuesday night, he didn't seem to be acting like himself. Didn't want to eat or drink and was generally lounging. So, I caved and decided to check his temperature. 104. Yeah, I felt awful. In my defense, he has literally never had a fever before and was still playing like so I figured he was just tired. We took him down to the ER and they checked him all out. He has sores all in his mouth and on his throat from a virus but they should clear up soon. He has to take some pain medicine though (so he won't bother the sores) and there is nothing more scary/ hilarious than a stoned three year old.
~ My K up and walked across the room last night. All I could do was watch and cheer him on. I was stunned. I was happy. I didn't tell his father when he got home. Totally spaced. So, hey Tommy! When you read this... umm... look what K did! (He hasn't done it again though. Booger.)
~ My house looks like a bomb went off. After last week being so insane and D being sick this week, my house has taken a beating. More specifically, my kitchen. Its embarrassing but kids are happy, clean and fed so get off me about it conscience.
~ I locked myself in the guest bathroom yesterday. I needed a few moments of peace where I didn't have little hands rubbing all over my body. I feel horrible for feeling that way but I really think they understood. They both sat outside the bathroom door and "talked" to each other. Of course by talked I mean D talked to K and he screeched back. I swear the baby is part pterodactyl.
*Not many this week but I'm sure the first and last one make up for all the good things I did this week. Le sigh.