Are you ready for the last week of the "Green You Scene" series?? I don't know about you guys but I have had a blast learning about super easy ways to go green! If you have missed out, the first week we talked about great ways to green your cleaning habits. The second week we talked about ways to green your ride. Then, last week, we talked about ways to keep your yard greener by being greener!
Along with each week's post, I have also been giving away an awesome prize pack from Scott Naturals. This prize pack is packed with all kinds of awesome goodies that will make your house a little greener. For free! So, before we get started, lets announce the winner of last week's "Green Your Scene" Scott Naturals prize pack!
Congrats To gmmerrell, who said: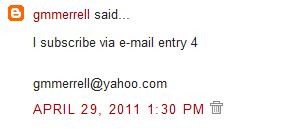 You have 24 hours to respond to my email and send your street address to me at Amy @ RenderMeMama (dot) com to claim your prize! Hurry! Go!
So, this week I am going to share some ways I have been able to get D into helping keep things green around the house. K, well, he is 19 months. Everything is "NO!" still. I'll work on him later. Point is, if D can manage these things at 3 years old, so can big kids.
The first thing he helps with is by being in charge of our reusable bags. He is "in charge" of getting them out of the van when we get to the store, he helps me put away the groceries and then he puts them back in the van for the next trip. It may not be exactly green in the short run but it is starting a habit that will last (hopefully) his entire life.
We also make sure to remind him to turn off the lights, television and electronic toys when he is done with them. Saving energy is a big thing in our house. Both for the environment and cost!
D has also been very involved in helping me with our garden. We talk about the plants and how they grow. He helps me with the planting and the watering. He is mad excited about the tomatoes and strawberries we have already and it has made him even more interested in learning about all kinds of growing things!
For older kids, it is obviously easier to get them involved in being green. There are cool crafts you can do to help them learn, they can help with recycling and participate in group and activities geared towards kids.
Now for the fun part. Our family has been asked to participate in the Scott Naturals 4-Week Test Drive. In honor of Earth Month, the Scott Naturals brand is challenging Americans to take an easy green step by testing out its line of hybrid paper products: bath tissue, paper towels, flush-able wipes and napkins. If everyone that visited Google today took the 4-Week Test Drive there'd be 4,414,400 trees saved.
As part of this project, Scott Naturals will be making a donation to the National Wildlife Federation. For every unique click-thru to THIS LINK, Scott Naturals will donate $1 (up to $25,000 total) to the National Wildlife Federation. Sweet, right? All you have to do is click!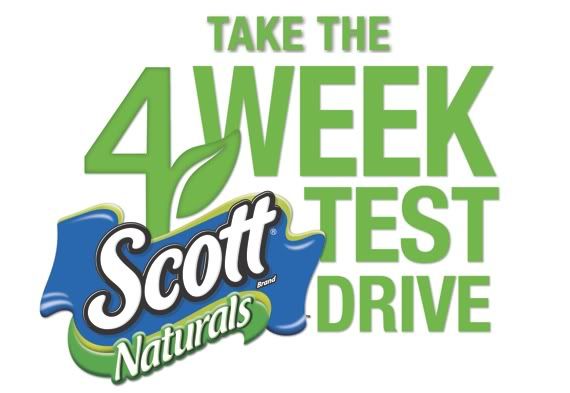 I also have four huge prize packs to give away (one a week) to a lucky RMM reader! This prize pack includes a full size package of napkins, toilet paper, paper towels and moist, flush-able wipes. Don't tell me those are things you would rather pay for when you can win them.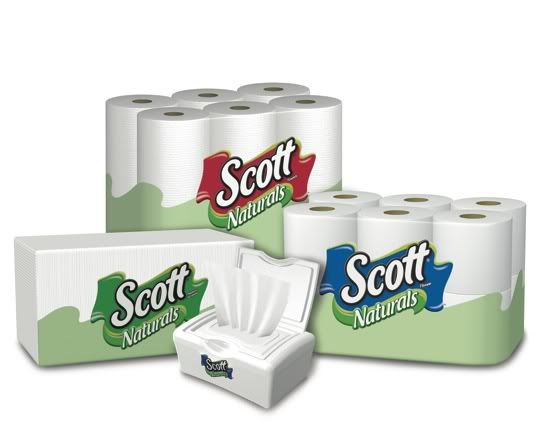 How to enter (These have changed! Pay attention!):
1. You must follow Render Me Mama via GFC and leave a comment saying you do. (Mandatory) *1 entry
2. Visit Scott Naturals and take the 4 week test drive pledge (all you have to do is click and you even get some sweet coupons just for doing that. Plus, you just donated a dollar to the NWF!). Leave a comment saying you did so. *1 entry
3. Click the link of above (or here) to donate a dollar to the National Wildlife Federation. This is going to have to be an honor system thing here ladies and gents but seriously.. if you are going to lie about clicking a link to donate a buck to a charity so you can win some paper products (sweet as they may be), you need a life. *1 entry
4.
Like my Facebook page to stay updated and leave your first name & last initial or your page name. *2 entries (Be sure and leave two comments to get both entries!)
5. Subscribe to Render Me Mama to be delivered via email (Over there ---> ) and be sure to confirm it. *5 entries.
(Be sure and leave five comments to get all entries!)
I will draw the winning number via Random.org next Monday. Don't be discouraged if you don't win this week though, come back next week for more going green wisdom and another chance to win an awesome prize pack! Good luck!
*THIS GIVEAWAY IS CLOSED! THANK YOU TO ALL THAT ENTERED!*
*I was given the opportunity to review the Scott Naturals line and compensated for my time as part of this post. All opinions and tips are mine.